App gives riders essential weather information for their entire journey, now being deployed with a major international motorcycle manufacturer
Highlights:
First-ever weather app specifically for motorcyclists from partnership of P3 and Vaisala Xweather, both leaders in their respective fields
Created and being deployed for a major international motorbike manufacturer
Pioneering app enabled by Android Automotive OS uniquely provides riders with granular understanding of weather conditions that's continuous for the entire journey, not just point to point / city to city
P3's SPARQ IVI innovations to enhance user experience and safety for owners of motorcycles, one of the world's most popular forms of motorized transport
Stuttgart, Germany and Eden Prairie, Minnesota – 24 August, 2023 – P3 digital services, leading provider of In-Vehicle Infotainment (IVI) systems, and Vaisala Xweather, leading developer of global weather data and mapping solutions for business, announce their collaboration, and creation of a weather app specifically designed to meet the needs of motorcycle riders.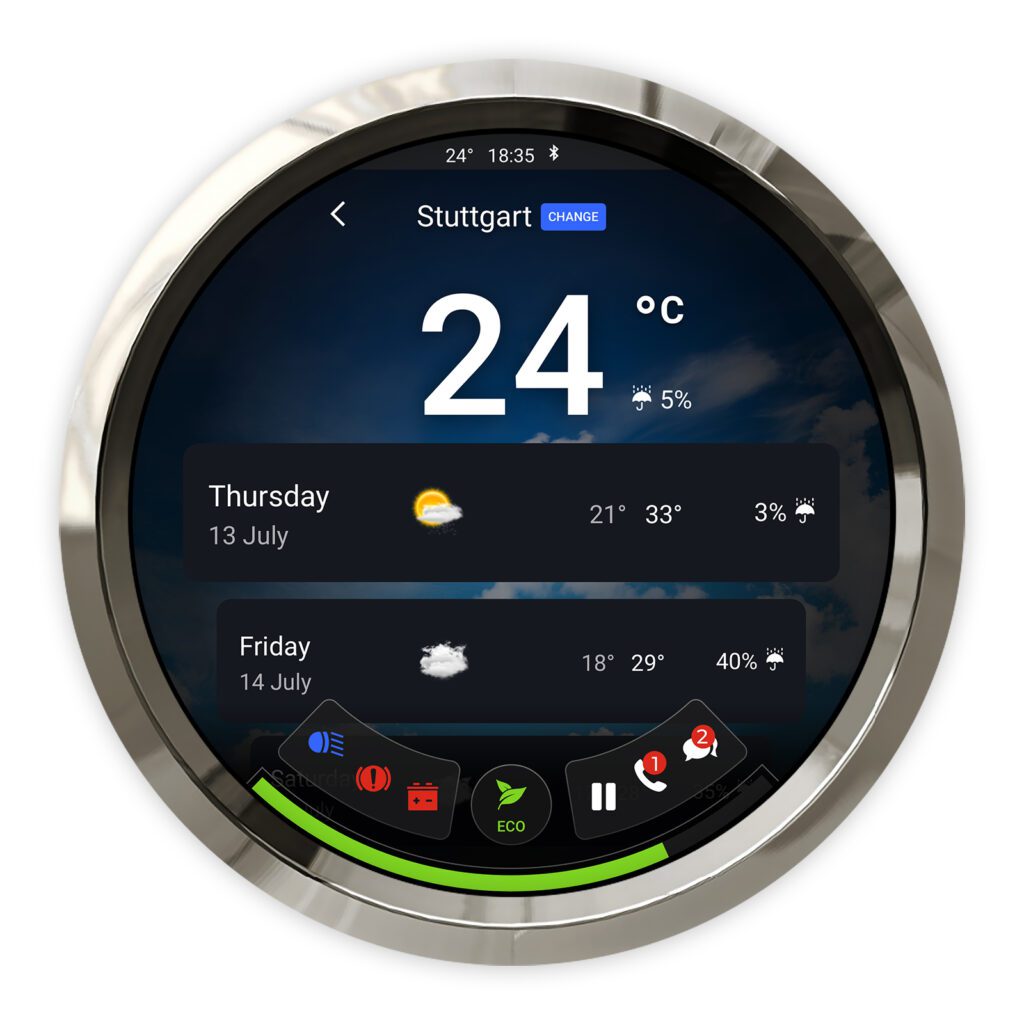 P3 designed and engineered the new app for a major international motorbike manufacturer, and it is currently being deployed.
The new app is the result of P3's successful integration of Xweather APIs with Android Automotive OS. The new weather information application will join P3's rapidly developing SPARQ OS IVI platform.
The new P3-engineered app enhanced with Xweather data provides information that is highly granular, with motorbike riders in mind. In addition to temperatures and precipitation status and predictions, the app indicates wind velocity and intensity.
Uniquely, it gives the rider an understanding of weather conditions that is continuous for the entire journey. This makes the app far more useful than otherwise possible with conventional weather apps which only provide sequential snapshot data that is point to point, town to town.
The detailed information enabled by Xweather is particularly valuable to motorcyclists whose two-wheeled means of transport is more affected by weather conditions than fellow road users travelling in the shelter and comfort of a car.
The motorcyclist receives a comprehensive and dynamic weather forecast with data describing conditions as they travel, from the start of their journey, uninterrupted until the destination is reached. The app is even intelligent enough to capture average travelling speed and provide advice on dealing with surrounding conditions.
We're thrilled to collaborate with the infotainment experts at P3, and to be joining the SPARQ Android Automotive ecosystem. When it comes to delivering leading edge technology innovation, partnerships are key, and we're immensely proud that our joint solution will be playing a big role in improving motorcycle travel for millions of riders around the world

Ross Harrison
Strategic Partnerships & Account Executive at Xweather
It's an honor to be chosen by a leading manufacturer to deliver a truly next-generation user experience to its motorbike rider customers. We're also really excited to be partnering with Xweather on this ground-breaking project, one that is set to significantly enhance rider experience and safety

Marius Mailat
CTO & Managing Director of P3 digital services

About P3 digital services
With 27 years' experience in automotive industry consulting and software development, P3 creates customized In-vehicle Infotainment (IVI) systems based on Android Automotive OS, the fastest-growing IVI operating system today. SPARQ OS is P3's flagship IVI solution that helps car manufacturers to differentiate by delivering advanced top-bottom custom Human-Machine Interface (HMI), service layer and Vehicle Hardware Abstraction Layer (VHAL) integration. Major car, truck and motorcycle makers have benefitted from P3 innovations, having deployed SPARQ OS as their core IVI system. P3 digital services is part of P3 group, a leading international technology consulting and software development company with a rapidly growing team of more than 1,800 consultant engineers working to develop and implement solutions to today's complex technology challenges.
www.sparqos.com, www.p3-group.com
About Vaisala Xweather
Vaisala is a global leader in weather, environmental, and industrial measurements. Building on over 85 years of experience, Vaisala provides observations for a better world, with space-proof technology, even exploring Mars and beyond. We are a reliable partner for customers around the world, offering a comprehensive range of innovative observation and measurement products and services. Headquartered in Finland, Vaisala employs over 2,000 professionals worldwide and is listed on the Nasdaq Helsinki stock exchange.
Vaisala Xweather combines Vaisala's technology with revolutionary weather modelling and data. Committed to uniting the world to solve the environment, Xweather optimizes and protects businesses with its world-leading sensor-enhanced data and solutions-as-a-service for sustainable resiliency. Whether it is overcoming local challenges or creating the next groundbreaking innovation, Vaisala Xweather makes sense of the weather.
For media information:
For P3 digital services
Cynthia Ritchie
cynthia@whitetigercommunications.net
+44 20 4518 7555
For Vaisala Xweather
Katri Koponen
Communications Manager
katri.koponen@vaisala.com
+358 50 5860262