Radioline
World's leading radio provider with Android Automotive OS
Radioline is first mover on embedded radio apps for cars in Android Automotive.
Radioline is built on a highly scalable platform with advanced features, enriched content management, massive channel aggregation and universal access via any automotive apps (including hybrid radio with TDF).
With 15 years of experience in IP industry, Radioline has developed advanced solutions, combining broadcast & IP content in a single app. Radioline brings a cutting-edge radio and podcast experience into our turnkey Solution SPARQ OS to modern vehicles. Radioline is the world's most comprehensive station and podcast database, with advanced services distributed to all screens by a wide range of partners.

Key benefits:
Export to playlist: add a live radio track to the driver's playlist (Spotify/Deezer) with one touch. This creates the first bridge between radio and music streaming platforms, reinforcing the music prescription role of radio.
Cross-device account system: Radioline accompanies the user throughout the day with a seamless listening continuity between devices.
Hundreds of hand-curated catalogs worldwide: by theme (music, sport, news…) and by geography (national, regional, local) to always offer drivers the content that matches their tastes and location (161 countries).
Hybrid radio option: for a full radio in-car experience, SPARQ and Radioline provide an integrated hybrid radio option to OEMs. To keep the listening pleasure smooth and uninterrupted, the app automatically switches between FM, DAB and IP sources depending on the car's reception quality.
With its extensive radio and podcasts aggregation and its advanced features, Radioline is the hassle-free solution for worldwide fleets running Android Automotive. With the freedom offered by SPARQ OS, the UI and UX can be tailored to any OEM needs.
Radioline still has the lead for in-car media consumption, but innovation is essential to maintain its pre-eminence in the new connected cars. This is why Radioline is building apps with an intuitive UX, personalization, seamless cross-devices experience and advanced features. The SPARQ integration incorporates all the features and benefits of Radioline, in a safe and user-friendly Android Automotive OS HMI.
Radioline will enable our Android Automotive OS infotainment platform SPARQ to provide car drivers with an enormous selection and quality of radio channels and podcast.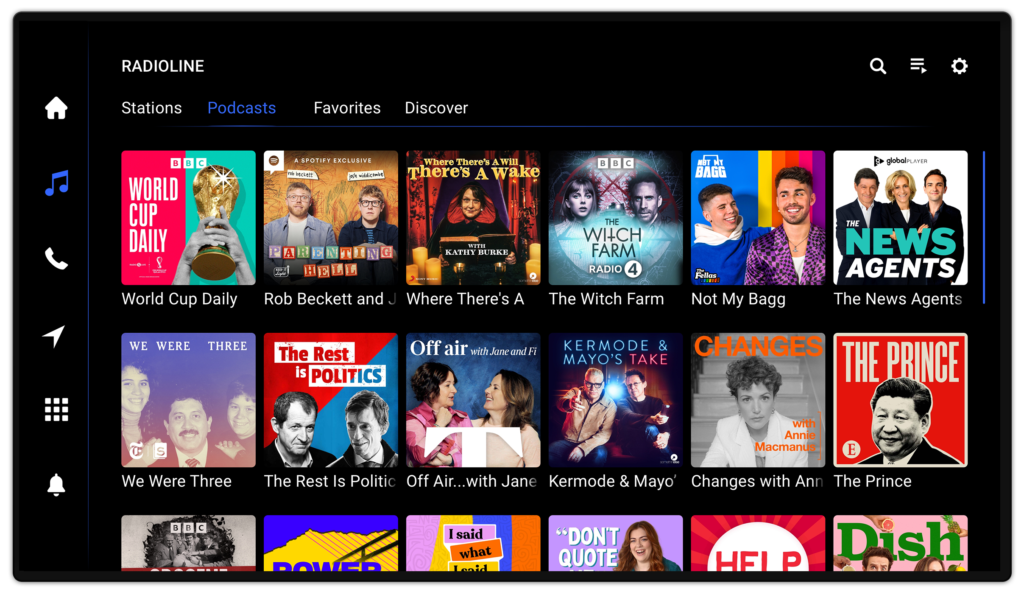 "Great partnership with P3 which extends our in-vehicle footprint in a flexible & nice environment which allows us to improve our UX."

Xavier Filliol
Radioline, COO
"Radioline is seen by P3 as one of most stable Radio players in Android Automotive OS. We are happy to see Radioline in our deep customization SPARQ and being able to allow the driver to switch between classical radio to IP based Radio."

Marius Mailat
P3 digital services, Managing Director & CTO
Visit Radioline
Contact Us